Bad Bicycling Luck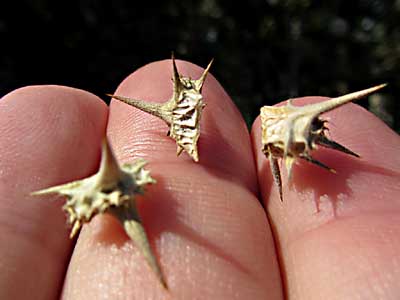 Last weekend, my feet hurt (long story, but running down the stairs at 1:00AM because your dog is having a seizure can cause your plantar fasciitis to flare up. Who knew) so instead of a grueling mountain bike ride, I took a nice easy loop around Marshall-Cottle park.
Bad idea.
My tires were like pin-cushins. So many goat-head thorns were picked up that I was stuck with two flat tires. Poopies.
I counted at least 8 in my front tire, and 3 in my rear (I guess the front tire cleared the path so my rear didn't get hammered.
Today I replaced both tubes, and put in Mr. Tuffy strips (something I should have done before the first ride), and I expect to not be bothered by this again.
I should be thankful that 6 weekends of riding without any protection were blissfully trouble free. But I was cursing the shrubs that drop those bastards the entire walk home…