My ride – 2002 Lemond Buenos Aires
Since I regaled people with the drama about failing wheels, and buying a new wheelset, I thought I would spend a little time talking about my current road bike.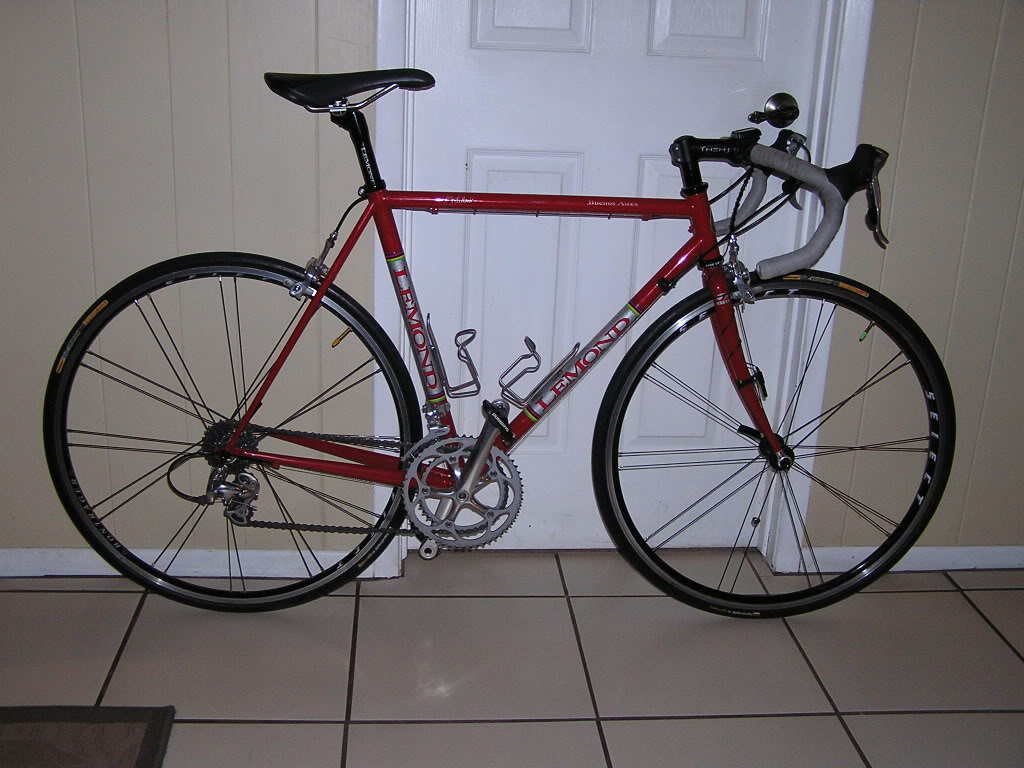 It is a 2002 vintage Lemond Buenos Aires. Made by Trek, is is a steel tube framed bike with a carbon fork. I bought it in 2002 for ~ $1200 new (I don't recall the actual price). It was the most expensive road bike I have ever owned, but I have greatly enjoyed it. The frame has a comfortable geometry well suited for a hobbyist rider. It is neither a twitchy race bike, nor a special purpose bike (read up on what makes a good "triathalon" bike), it has served me well.  It came with a mixed component set (more on that later) that was mostly Shimano Ultegra, and the Trek made Bontrager wheels.
I always figured that the wheels would be the weakest link in the bike, and I was not much wrong. However, while they lasted they stayed remarkably true, and needed very little maintenance. Of course, over 11 years I probably put 6,000 + miles on it (as logged on my cycle computer) including many miles climbing hills and racing down the other side. Add into that fact that I have been north of 200#'s for most of the time I have ridden it, it is not surprising that there were hairline stress fractures on the wheels.
As I mentioned, I am not surprised that I had to change the wheels, but more amazed at how long they lasted. I put a lot of good, hard miles on them, and they were the lowest maintenance road wheels I have ever owned.  But the mixed components of the Shimano group was the first failure.  The outward facing components were all proper Ultegra, shifters, brakes, crankset (the hubs were the Ritchey hubs built into the Bontrager wheels). But the one "hidden" component, the bottom bracket, was the economizing point. It came with the bottom end Tiara bottom bracket that after 3 years or so developed a really annoying "click", particularly when you were pressing hard on the pedals.  I ended up replacing it with an ultegra bottom bracket, and it has been glass smooth ever since.
I was a bit concerned about whether I spent too much to get it back on the road.  After all, a 11 year old bike that was originally only $1,200 new, adding $500 of wheels to the bike seemed a bit risky. However, a little searching and reading on the web, and apparently that era Lemonds are well regarded, and the Buenos AIres in particular which has the Reynolds 853 stainless tube set are prized for the comfortable, ride, and how well it handles.  Apparently "good to nice" condition versions still fetch up to $500 on the secondary market. Clearly, I have a good frame, and now with the new wheels, I am good to go for another decade.
While I can't help but drool at the higher end bikes at the shop, all the carbon, and exotics, for my needs and purposes (to ride and stay in shape), I think my Lemond Buenos Aires will keep me riding in style.