Review: 2019 Trek FX Sport 6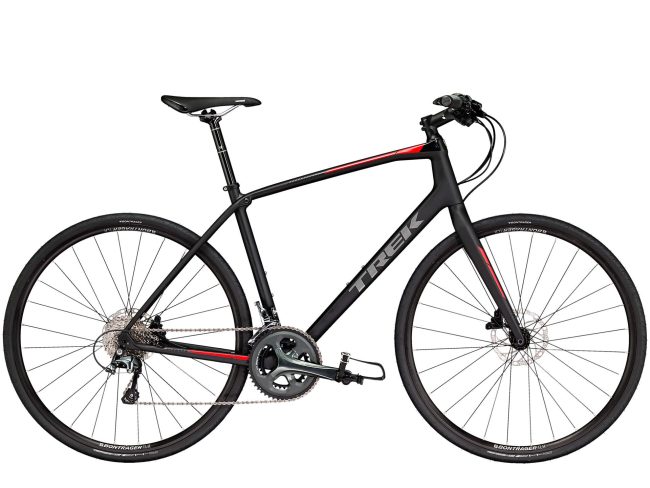 In April, I took a chance and bought a "Hybrid" bike (a "road" bike with bigger tires, and flat bars) to replace my trusty Lemond Buenos Aires. I have written about the Lemond elsewhere, but in summary, it provided 17 solid years and way more than 10K miles of service (only major repairs were replacing the bottom bracket, and in 2014 the wheels died and were replaced).
As I tend to keep my bikes a long time, I was interested in something modern, with a carbon frame, and decent components. Fortunately, the fastest growing segment of the market is the "Fitness" bike, or this hybrid. After looking at several entries, I settled on the pricey, but well equipped Trek FX Sport 6.
Built around an OCLV frame made specifically for this bike (prior versions were Domane road frames) it offers a solid platform, with some cool twists. The isomeric dampener near the seat post is a nifty idea (I can't really judge how much it helps, but I will take Trek's word for it), and coupled with mid range wheels, good (very good) disc brakes, and a solid Shimano 105 component group, it is a solid performer.
Shod with 700×32 tires, run at 80 PSI, it is nimble, quick handling, and most importantly, it is comfortable to ride. As I age (and as my weight has that late middle age rise) the crouched position with a traditional drop bar bike had gotten agonizing. While I have a mountain bike (the Specialized Crave Expert I have also written about), it is tedious to put any real miles on. And I do like being on the open road, ticking off miles and feeling good about myself.
The component group is a 2×11, with ample gear ratios to do climbing, as well as wind at your back pounding at 30MPH. With a little over 330 miles on the bike in 4 months, it has broken in, and seems to be shifting well.
The only downside I have experienced is that the thumb shifters are a little persnickety on staying in tune for the indexed shifting.
Since I have only had steel framed road bikes, this is my first experience with carbon. I am a bit terrified of over tightening fasteners and damaging things, but I also bought a couple of torque t-handles for the basics, and at this point in my life, any major service will be left to the shop.
but otherwise, the carbon is solid, and forgiving. Enough absorption of road harshness, it is a pleasure to ride on after the aggressive geometry and the twangy steel of the Lemond it replaced.
While the Lemond was faster on equivalent segments (as per Strava), it isn't by much faster. And it was a far less forgiving of a ride.
With the bike, I also bought a Wahoo Elemnt GPS cycling computer. A bit cheaper than the Garmin's, although that wasn't strictly a criteria, the Garmin's have a ton of bad reviews, whereas the Wahoo is just feature rich enough. It integrates with my iPhone, and all my sensors (speed/cadence/heart rate). Installation was a breeze, and its integration with Strava is pretty slick.
Pretty soon, I will take the bike in for its first (free, part of the shop's offer) tuneup. Only thing it could use is some expert attention with the shifters.
Future upgrades
Where I will likely upgrade in the future is to replace some components. If I can get my weight below 220#'s I will likely buy a set of carbon wheels. The current ones are pretty stout, and heavy.
Then I will look at better than 105 components. Perhaps move to XTR groupset. Maybe even a Di2 setup. Pricey, but a significant upgrade.
And of course, I am sure that the first component I will be forced to replace will be the bottom bracket. For some reason, even on a big $$$ build, the builders reach into the mediocre bin for such a hidden component. But every bike I have had in the last 30 years has needed to have the BB replaced within 2 years. Mark my word.
Final thoughts
Not sure why it took me so long to take the plunge (well, it was costly) but this is a great bike, a solid performer, and a fair value for the components you get. Solid all around, and a genuine pleasure to ride.
The Elemnt cycling computer is easy to use, non-distracting, and has great integration with my tracking app of choice – Strava.
If the carbon version is too dear for you, for about half the price, you can get a solid aluminum framed version, and then customize as your budget allows. Anything that keeps me on the road is a good thing.