Apartment Living – Living with less space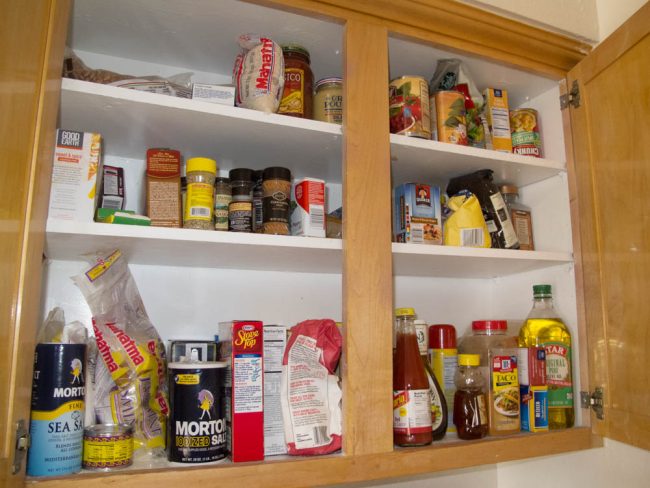 Having the shock of going from ~2,400 sqft to < 1,200 sqft is enough. While we never filled out last house, we had collected a lot of "stuff". But there are things we have lost that hurt. Today, I will talk about kitchen space
Both our houses in Arizona had ample counter space. In Tucson, they were fine Corien counter tops, with ample space for gadgets. But I didn't need to keep the gadgets out, as we had massive amounts of cabinet space.
Chandler was similar. Lots of places to tuck and hide things to keep the counters clean, and presentable.
Add to that the large pantries, and life was good. You could stock up in a trip to Costco, or even goof and double up on things like condiments, or canned food. It didn't matter, there was plenty of room.
Not so in Apartment land.
First, we have no pantry. So one set of cupboards are for out dry goods. Even with a small fraction of what I used to have on hand in Tucson, the cupboard I have dedicated to dry goods is packed to the gills. No longer can we stock 2 or more kinds of salad dressing.
Second, the counters are smaller. Both in depth, and in linear feet. It really cramps my style of preparation and execution of meals. As any good cook will tell you, having space to lay out your ingredients, and to properly prepare is important to good cooking.
Third, the refrigerator is tiny. Compared to both the units we had in Arizona, this one measures up poorly. Both too small in volume, and too few shelves. Even the freezer is cramped. Add to that no ice maker, and I am feeling like I am living in the third world (I know, not such big problems).
Fourth, the dishwasher makes the original unit in Chandler seem like first class. It is small in volume so we are doing dishes more often, and it is L O U D. I guess we should be happy, as many of the units in this complex do not have dishwashers.
I know, these are not big problems, and certainly things I can live with. I do know what I would change, and when I would do it if I Owned this unit. But I don't, so I will make it work.
At least our little patio area is amenable to grilling.
One weekend, I will bite the bullet, and sort out my cooking paraphernalia, with the intent to cull it to about half what I currently stock. Someone starting out buying from the Salvation Army will be able to get some pro cookware for a good deal.