New Gear Friday – It's here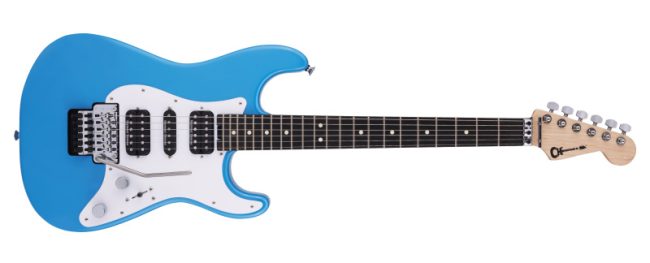 Today at lunch time the FedEx truck showed up with my monolith shaped box. The Charvel Pro Mod So-Cal Style 1, in Robin's Egg Blue with the Ebony fretboard is here.
Pulling it out of the box, it was dead mint, gorgeous, and flawless. It was out of tune (not surprising and I suspect that it will take a few weeks to stabilize to my local temperature and humidity.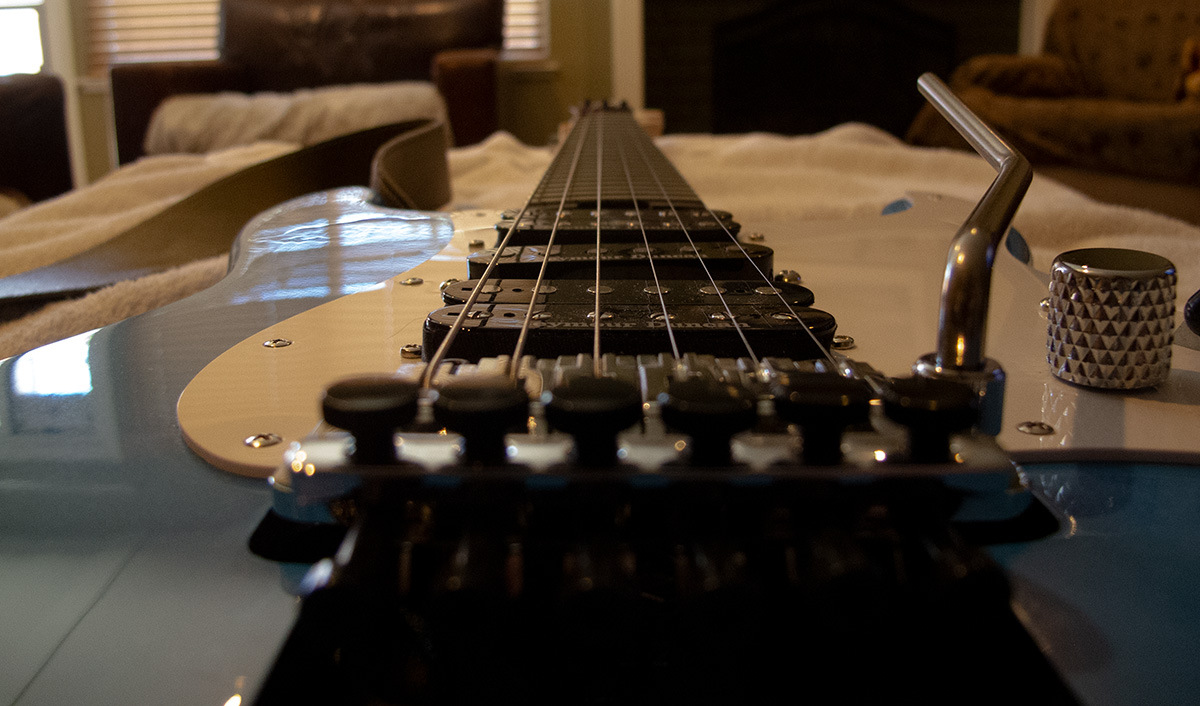 This is the first full floating (aka Floyd Rose) tremolo guitar I have ever owned, and I will admit it took me some time to get it tuned up. It is an iterative process, but once you have it good, and have locked the nut, it stays in tune.
I got it tuned up, and plugged in. What I wanted it for, the flat thin neck is all that I remember from my first Charvel. This neck profile is absolutely awesome. It is quite a bit different than my Tom Anderson, and it will take some getting used to.
It has three pickups, all Seymour Duncan's and they have great bite. Roll off the volume, and use one of the split positions with the center single coil, and you get a fantastic fat tone, great for clean sound noodling. Slap that switch to the full bridge pickup, and roll the tone pot to the detent that bypasses it (essentially a straight through signal) and you get a killer heavy metal crunch. I am going to have to pull my old Gallon Krueger out of storage to play some vintage 80's hair metal.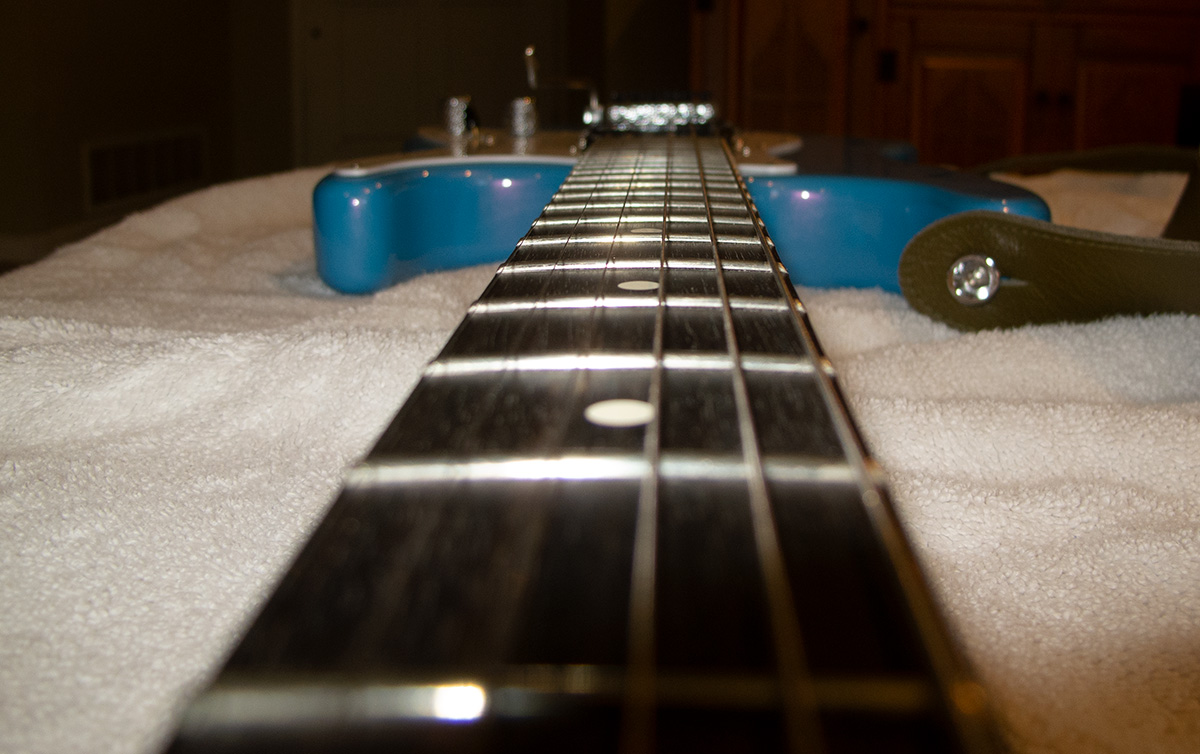 The paint is pearlescent, and a deep blue. I will admit that I prefer the Miami blue of the Fender American Professional II Strat, but when I picked it up, it just felt uncomfortable to play. Still, the Robin's Egg Blue is a killer color, and with the white pick guard, it is a great looking axe.
22 Fat frets and the compound radius make for a very comfortable neck. Out of the box, the action is a little high for my tastes, but after it breaks in, I will take it to get a good setup, and ask for the action to be lowered a little.
How it plays
Once I got the tuning set up and stable, I spent a couple of hours putting it though its paces. Being a 25.5" scale, it has a little more room up high on the neck (a good thing) it is very comfortable playing single note runs above the 12th fret.
There is a huge range of tones you can get out of the standard wiring. There is a 5 position switch, and it provides several configurations of the pickups, from full hum buckers neck and bridge, and split coils wired together with the center single coil. And in the middle (#3) position, it is all the center single coil pickup.
Speaking of the pickups, the trio of Seymour Duncans are very hot, very versatile, and sound super clear. They are a good blend between output, tone, and flexibility, and coupled with the wiring, are bright, clean, and supremely flexible.
Every one of them provides tons of usable tone, covering a wide range. Switching between various pedals, bringing chorus, overdrive and delay provide a gorgeous palette of sounds, and adding the dirty channel on the amp brings out a ton of harmonics that yield some killer sounds.
While the action is a bit high, it is extremely playable, and I am getting used to the setup. A few iterations of tuning it up have been needed, but this is likely due to fresh strings, and the temperature/environment changes between where it shipped from. I suspect that in a few days it will equilibrate, and settle down.
One thing that is taking some getting used to is having a pickup in the middle position. I keep whacking it with the pick. Not terrible, but distracting. I am sure I will adapt.
One thing that is different is the longer scale length. It is a "standard" 25 and 1/2 inch scale length, where the Tom Anderson is a 24 and 3/4 inch. This is a mixed blessing. The lower frets on the Anderson are easier for a larger stretch, but the frets above the 12th are harder to play cleanly, especially for my fat – sausage shaped – fingers. The Charvel is much easier to play high up on the neck.
I do so love the neck profile. It reminds me instantly of the older Charvel Model 4 I had, and with the rolled fretboard edges being instantly comfortable. It just feels right in my hands.
It's a winner already
I am reliving my early experiences. The guitar feels great in my hands, and the whole package is impressive. It has already earned a spot on my wall.
The things I need to become more familiar with are the full floating Floyd Rose tremolo. But I am not worried.
I love the color, it has grown on me. The neck is the crown jewel, a real speedster of a player, with jumbo frets, and impeccable workmanship. Made in Mexico, it is a solid package and a player's guitar.