Movie: Ford v Ferrari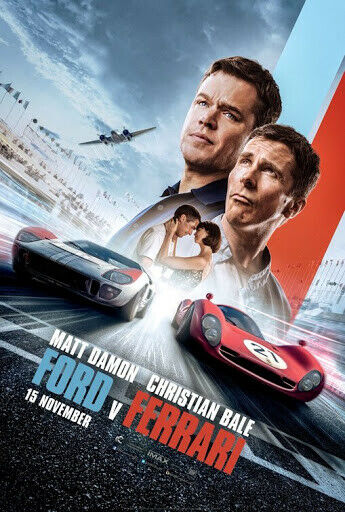 It is not often that I am blown away by a movie, but this is one of those cases. If you are at all a gear head, and enjoy tales of the man and machine versus the world this is one you have got to see.
A bit on the long side, it is 2:36 long, yet it kept me on the edge of my seat.
The story is founded in reality. In 1959, Carroll Shelby won the 24 hour race at Le Mans, a fabled test of driver and machine. But health issues prevented him from continuing to race.
The premise of the story is that Ford was stagnating. Building cars (lots and lots of cars) but had no pizazz. Chevrolet had the Corvette, a sports car that had captured the young, and drove a lot of success in the SCCA circuits. Carroll Shelby teemed up with the UK chassis maker AC, and was building cabriolet style sports cars with the venerable 289cid Ford V8.
Then Ford decided it wanted to go racing in a big way. Originally, they tried to acquire Ferrari, but instead were used in a ploy to increase the deal to be sold to Fiat.
Henry Ford II was incensed, and wanted to bury the smug Enzo Ferrari. To do that, they funded a huge effort to build a competitive race car targeted at the endurance races, by bringing in Carroll Shelby, and his ace driver, Ken Miles.
I won't spoil it any more than that, but will say that the movie is amazing, and totally worth your attention for two and a half hours. A real nail biter.
Oh, and Ford did win the 1966 24 hours of Le Mans as well as the following three years, knocking off the legendary Ferrari team, and remains the only completely built in America cars to win that storied race.
Matt Damon puts in an amazing performance as the legendary Carroll Shelby.
Highly recommended.