Money Pit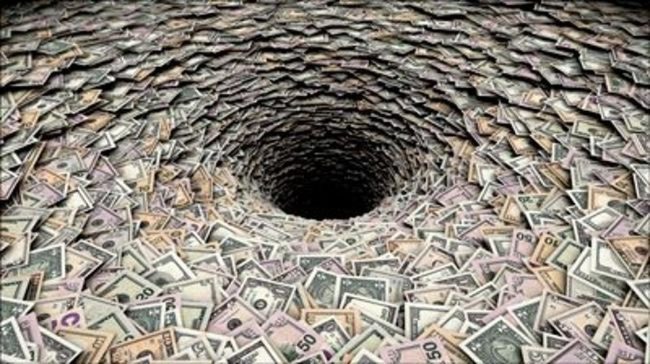 One of the attributes of a good hobby is that it costs money. Sure, you are going to spend money to get started. That is easy to see and to account for. And to do your hobby, there will be some ongoing costs. Whether it is greens fees if you are a golfer, or gasoline if you are a motorcyclist, or tires and gear if you bicycle.
But there are some hobbies that really just take a lot of money to adequately participate in.
Sailing is one. It is often said that
"The second happiest day in the life of a sailor is the day she buys her boat. The happiest day is when she sells her boat."
My father was a life long sailor, and after he sold his last boat, I asked what he would do when he wants that sailing experience. His reply to me was that he would don a windbreaker, step into a cold shower, and tear up $100 bills.
RC Cars
As I am just setting out on this adventure, I am beginning to realize the investment that I will be making.
There is the initial cost to get in, the "ante" so to speak. A RTR car and the minimum needed accessories. Battery, Battery charger at a minimum.
But then you will need some tools to work on it. I have a tool box full of tools. Of course, these are tools designed for, and used to maintain motorcycles and automobiles.
So I will need some tools to facilitate repairs and rebuilds of the car. But they are expensive. Many are special purpose, such as shock rebuild tools, and camber/ride height gauges.
Of course, there are electrical components, so there is the need to solder, and solder high current joints. My simple soldering iron doesn't have enough hear or wattage to effectively handle this use case (I have had it for at least 25 years, if not more). I will need a better soldering station.
Hand tools for the hex head fasteners. Alas, the allen wrenches, and the small sizes make it difficult to work on the car. So, I ordered up a set of MIP hex hand tools. Since my car has SAE threads, I had to get the standard sizes. It is unbelievable how much these are, but, it is a low volume, an application pretty much specific to the RC world. If only they used Torx fasteners. Sigh.
Then, looking at the number of fasteners, and knowing that a couple times a year, I will need to disassemble, clean, condition, and reassemble the car, I am looking hard at a dedicated power "screw" gun. They make them, and the $80 price tag is beginning to look reasonable.
Then there spare parts. Fasteners mean that they can break, back out, wear out, etc. So, I will strategically begin laying in a supply of screws, bolts, suspension arms, pivot pins, bodies, and the like. Alas, the number and variety is daunting.
Then there are upgrades. Having bought a RTR, but based on the Losi buggy platform, I can add improved shock towers, better shock absorbers, adjustable suspension, and steering components.
Then replacing the stock steering servo with a better unit.
Of course, I will also likely want a better transmitter.
And so on, and so on.
Expanding the pack
Like guitars, the perfect number of RC cars is "Just one more …" I am barely getting involved in the sport, and I am already eying my second acquisition. I think it will be a true basher/stunt truck. Something robust, built to take abuse with good cheer. Watching Kevin Talbot on Youtube build and bash cars makes me want to do that too.
Then I am certain I will want a scale model rock crawler. A Jeep Wrangler, or a Land Rover model.
Then I will want to build something from a kit. Right now, a short course truck looks interesting, but that isn't a lock.
Then, something in the 1/5th scale. Probably gas powered (little 30ish CC 2-stroke motors).
Yes, it is a sickness. Ooh wah ah ah ah.