Bread – a non-Gluten Free zone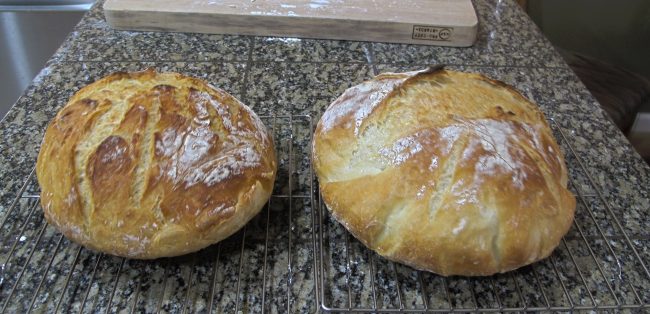 Last week, I mentioned how some baking success sparked a new passion, to bake bread. Delicious, full gluten, and wholesome bread.
I did buy some special equipment to assist and streamline the baking. Today, I used it.
The new gear:
Cambro 6 quart containers
A Lamé
An Emile-Henry Potato cooker
Dough Scrapers
Each of these are very helpful, and I will describe them in detail.
Cambro containers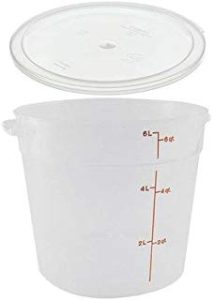 An old favorite from my food service days, these were pretty inexpensive to buy. However, they are immensely useful. I bought two 2-packs. Total price was about $23.
Two of them will be used to hold flour. One for bread flour, one for all purpose flour (note: I will probably add a 3rd, for whole wheat flour). Two will be used for mix containers, especially for the no-knead bread varieties. They fit nicely in my refrigerator, and they are also good for overnight or 24 hour proofing recipes.
No knead recipes are attractive because they are easy, and they are repeatable. The containers – they just simplify the process. A lot.
Lamé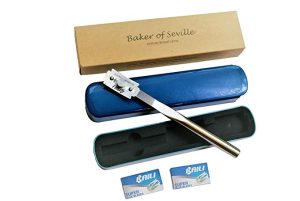 A lamé was a splurge. It is a simple tool, a holder for a safety razor blade that allows you to score or cut a loaf after forming and proofing, but before baking. This makes those large "vents" in the crust, and all the wonderful bread.
A splurge, because a sharp knife is a good, hell, even acceptable substitute. But it feels nice in the hand, and it works well.
I am sure that this will last the rest of my life.
Emile Henry Potato Pot
This was a recommendation from the King Arthur Flour site. They recommended this for their dutch oven baking method. I was somewhat dubious, but it was recommended. My Le Creuset 24cm Dutch Oven was working well, so why would I buy this?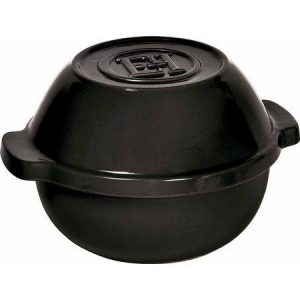 Again, on a lark, but what the heck. Life is short, so $120, and it arrived. Only disappointment was that I ordered the Burgundy finish, but I got the Charcoal color finish. Not really that disappointed.
There is a pre-use ritual, essentially scalding and boiling milk in it. This of course made a mess, but it does seem to have worked.
Today, I made two loafs, as you can see in the header image. The one on the right, I made with my Le Creuset dutch Oven, and the one on the left, yep, you guessed it, the E-H potato pot. (Note, this pot is supposed to make amazing baked potatoes, something I will have to try.)
I used non stick spray (Pam) and a sprinkle of cornmeal (recommended to prevent sticking), and I plopped the boule in and into the oven. 35 minutes with the cover on, and 15 with the cover off, and it came out AWESOME.
While I didn't need this, it does make a superior loaf.
Dough Scrapers
Almost an afterthought, I bought a pair of plastic dough scrapers. These are super useful to help get "stuck" dough residue out of bowls, and the like. They are soft but stiff plastic, and they were cheap – like $3.
The net of it all
I am still grooving on baking bread. I am truly astounded at how four basic ingredients, flour, water, salt and yeast, come together to make bread. Civilization arguably began with the cultivation of grains, and the use of them to mill and make bread. (Beer too)
It is relaxing to mix, to cook, to break, and to enjoy.
Note on the Le Creuset: Holy hell they are expensive. I bought my pair of them probably 25 years ago, seconds from the outlet store for about $100 for the pair. Now, the 24cm dutch oven lists for over $320. An eye-popper…