Instant Pot Chicken Noodle Soup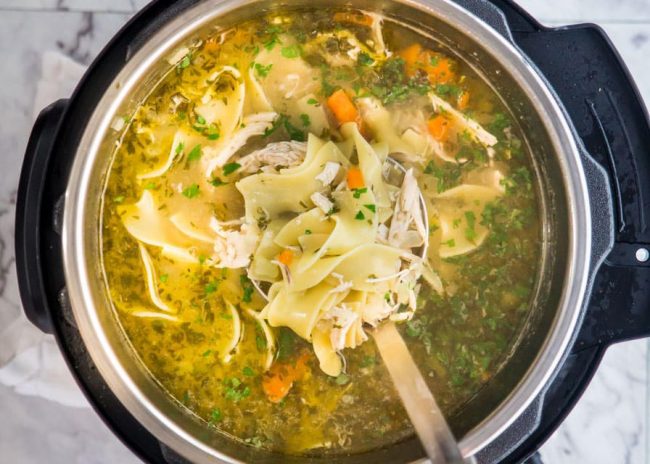 On the Instant Pot journey, this weekend I revisited a classic, the simple, hearty, yet instantly recognized "Chicken Noodle Soup." There are some fairly basic ingredients that are common. Onion, Celery, Carrots, white meat chicken, and seasonings. Fairly simple, hearty, and – dare I say it – wholesome. The recipe I used was from Jo Cooks, and it was pretty simple. I used about 2.5#'as of split chicken breasts, and I added peas, but otherwise I followed the recipe to the letter. (well, I did add two bay leaves and several cranks of coarse ground black pepper from my peppermill)
After chopping the onion, celery and carrots, I fired up the IP in Sauté mode, and sweat the onions and celery. After the onions were translucent, I tossed in the carrots, the seasonings and added the 8 cups of fluid (4 cups of sodium free chicken stock, the rest water), and placed these two monstrous breast halves in the pot. This was almost to the top of the allowed fill like for pressure cooking.
Then put the top on the pot, switched from Sauté to Soup mode and set the timer for 7 minutes.
With that much liquid, it did take a while to get to pressure, but within 30 minutes the alarm that the time was done beeped. Quick release the pressure, remove the chicken breasts and return the IP to Sauté mode, adding about 1 cup of frozen petite peas, and 5oz (150 grams) of wide egg noodles. While the noodles and the peas were cooking, I removed the skin and bones from the two breasts and shredded the meat to be returned to the soup.
I will admit that I was worried that 7 minutes wouldn't be enough time to fully cook these two breasts, as they were truly from birdzilla, but my concerns were unfounded. The breasts were fully cooked, and easy to shred for the return to the pot.
After 5-ish minutes, I turned the IP off, and let the soup cool for about 10 minutes before serving. A little parsley as a garnish, and crusty French bread to dunk, and it was a delightful meal.
Soups are easy in the Instant Pot.