Bicycle Dreams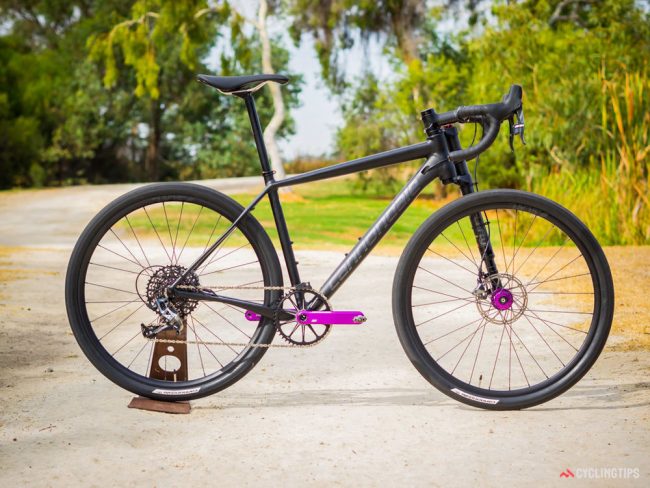 Lately, I have been back in the saddle again. Riding, at least on weekends, it gets my heart rate up, and I enjoy putting the miles on. But, I begin to get ideas. Could I ride to work? What would make that more pleasant? This bike is old, I need something new.
Yeah, that is pretty much the discussion I have with myself. My roadbike, reviewed here (my most read blog post by far) is getting old. A 2002 vintage Lemond Buenos Aires, a reynolds steel frame, Shimano Ultegra equipped, road bike. Minor upgrades, the standard bottom bracket failed early (it was a cheap downmarket unit), and replacing the standard Bontrager wheels with much better Fulcrum Racing units.
But it is now 15 years old, and if I was going to ride to work, I would want some amenities that are just not easily supported. Fenders, since, contrary to popular belief, we do get some rain in California, and racks so that I could mount bags to carry my laptop and other bits.
Of course, I have some wants. Disc brakes are where I want to be. I would also prefer a handlebar setup like a mountain bike, not the drop bars and aggressive riding stance of a traditional road bike. It needs to be comfortable to ride. There seems to be two classifications for this sort of bike, either a "Gravel" bike, one built to handle a wide variety of terrain, or an "Adventure" bike, a little heavier, usually steel, but closer to a touring bike of yore.
My natural inclination is to build something. So I go browsing Aliexpress, and the world of Chinese frame builders. Unfortunately, there are literally thousands of options. But search for an aluminum frame, with a derailleur hangar (curse the fucking hipsters and their fixed speed habits), and disc brake mounts, and about nil comes back.
There are tons of "Cyclocross" frames, but, they fall into two categories, Carbon Fiber, and Titanium. The Ti frames were right out. Yes, nice, functional, light, but even from China, the frames are $1,000 and up. Carbon is interesting, but, since I am planning on riding it to work, haul it on buses and on the train, it is going to get knocked and bumped. All things that can cause damage to carbon. Additionally, Cyclocross frames are pretty aggressive, and not favorable to comfortable riding positions.
Of course, AliExpress has tons of the other things I would need to buy, wheels, handlebars, and accessories. But all the searching for a cost effective frame solution from them has been for naught.
There are commercially available bikes that fit this description, in particular Specialized's category "Fitness and Urban" is a brilliant good start. But the dichotomy remains. There are < $1000 bikes, with aluminum frames, and ~ $2000 bikes with carbon frames. Alas, the lower priced units are equipped with literally garbage components. I wouldn't ever consider building a bike with them, and would certainly want to replace almost the entire group.
What I would love is to be able to just buy the frame. $300 seems like a decent price for a mass produced aluminum frame and fork. Then I could build with the components that I want (Shimano 105 or Ultegra), and couple with some wheels that are strong and appropriate, without compromising on quality. Ah, dreams.
Still, this is a thought exercise, and one that I will likely never execute on. Of course I will probably not ever ride to and from the office enough to justify the cost.