The Joy of Travel
For the last week, I have been pretty much offline, enjoying the sun, surf, and unlimited outdoor enjoyment offered by San Felipe, Mexico. Alas, all good things must come to an end, and we are back over the border, and headed for home.
Instead of our usual slog through the LA Basin, we grabbed 215 to 15 to 395 to 58 and came in to Bakersfield via Victor Valley and the Tehachapi Pass. A much more pleasant drive, albeit longer.
Our plan was to crash for the night at the truck area at the junction of I5 and 58. A known distance from home, it makes for an easy 3 hour drive back home.
There are several hotels there (well, now I think there are only 2) and we really didn't care for extravagant, just cheap and clean.
We got cheap. The "clean", well that's debatable.
Motel 6 has two buildings here, one is the classic design, and one was obviously bought by them an rebranded. We selected the latter, with the assumption that it would be "better".
Ha!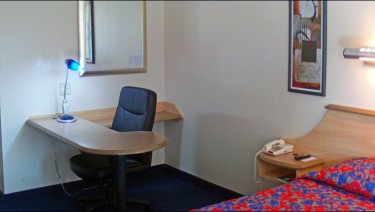 Since we arrived around 10:00PM, we didn't have the luxury of getting an inward facing room. Our choice was on the side facing the freeway. I can deal with that. But the "non-smoking" room was merely a suggestion. The stale stench of cigarette smoke infused into the furnishings and permeating the paint in the room was undeniable.
Then I went into the bathroom. Clearly, many prior visitors spent significant time hot-boxing in the commode. I swear that it could only have been worse if the old smoking section at high school was huddled into the shower. Groan.
The bed was actually not bad, but with a mere 2 pillows, both of which had seen better days, it was a pretty uncomfortable repose. Barbara had to go back to the office and ask for a second pillow. She was led to a storage area where the dead and decaying pillows and other detritus were moldering, and came back with a second pillow for herself.
Then there was the AC unit. An oversized under window unit, even at its lowest setting completely drowned out the traffic of I5 100′ a way. I have complained about these units sounding like a 747's 4 engines spinning up for takeoff before. Well, this was more like an F16 buzzing you. Finally, about midnight, I had to turn it off to get to sleep.
I guess I shouldn't be surprised that the room had no extended toiletries, but one gets accustomed to there being shampoo and conditioner laid out on the vanity. I can't complain too much, there were clean towels and two bars of Motel 6 soap.
Then, there was the WiFi. The good: It was free. It worked. The bad: There was nothing high-speed about it. I am sitting here, and it has taken 30 minutes to download 175 emails. Blistering…
The big benefit? There is no desire to linger in the room, and we will get on the road shortly.
In Summary:
While I am grumbling, it was a clean, safe place to stay. Cheap, and there when we arrived after a long day of driving. I am looking forward to sleeping in my own bed again though.
Oh, and Baja was fabulous.