San Diego trip – Coda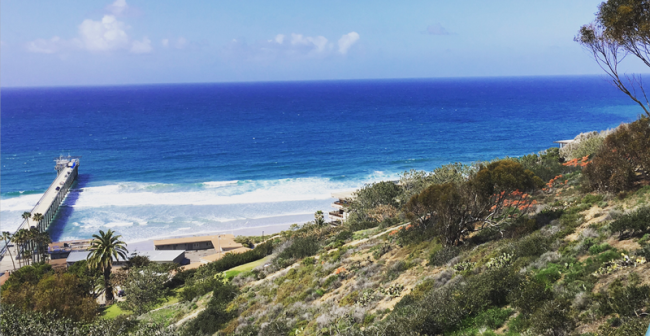 It was a wonderful weekend in San Diego, and apart from some serious rain Sunday morning, the weather was exemplary. About what you expect from the historical experience.
We trekked down to visit my folks for my dad's 83rd birthday celebration. My sister and myself were the family, as alas, our brother was tied up and unable to make the journey from Seattle.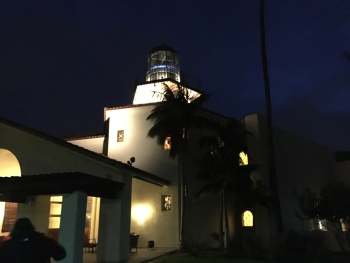 As I documented, Saturday was jam packed with excitement, and capped off with a fabulous meal at Tom Ham's Lighthouse restaurant, with probably the best view of the San Diego Skyline.
Their menu was also exquisite, with my pan seared yellowtail being absolutely delightful.
Sunday we awoke to some rain. Not torrential, but enough to make us think of indoor activities for the day.
We started with an unusual breakfast. My sister recommended this small 24 hour Mexican restaurant. It was clearly housed in an old Taco Bell establishment, and my Machaca breakfast burrito was quite good (and way over-filling).
Since Trader Joe's opened at 8:00 AM, we took a quick trip there to pick up munchies for the return trip on Monday. It was the one time I had no trouble finding parking at a TJ's store. Sunday at 8:00 AM.
Our plans were to meet at the folks at 10:00 AM, and our likely destination was the Scripps Aquarium in La Jolla.
When we got to the aquarium, we were met with the not unexpected crowds. The main parking lot was overflowing, so we drove down the hill to an overflow lot, and hiked the 1/2 mile or so to the aquarium entrance.
The aquarium wasn't huge, like the fabulous one in Monterey Bay, but it was interesting. It is laid out in two main exhibits, one a traditional tank environment, and one that is more kid friendly, with activities, and interactive displays.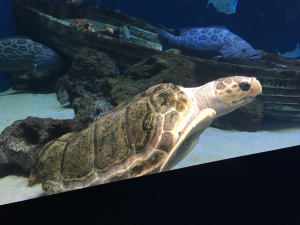 The highlights were the kelp bed tank, a huge display of the ecosystem around the floating kelp, the loggerhead sea turtle that they rescued from a power station intake in New Jersey, who was too damaged to release back into the wild, and was approaching the age when its gender would become evident (apparently, around the age of 35 years, the length of the tail increases for male loggerheads).
There were other notable sights to see, including the view from the back patio where the touching ponds were, and a fascinating display of sea horses and sea dragons.
After the aquarium, we needed a lunch place, so Siri directed us to a nearby sandwich shop where we found parking (I was stunned that we easily grabbed two spots in the small parking lot), and were treated to a quite delicious sandwich.
From there, we returned to our hotel to rest, with the plan to meet up again around 5 for a quiet evening watching a classic movie, and scarfing on Pizza.
The Pizza came from Oggi's Sports and Brewhouse, and was more than adequate. We then settled down to watch "Who's Afraid of Virginia Woolf"
I have seen the movie many times, and while it is at a deep level a very (very) disturbing story, it also is quite enjoyable, and was even spoofed by American Dad in an episode. One time, I need to count how much alcohol is consumed during the film. My liver hurts everytime just watching this movie.
Around 10:00 PM, the evening wrapped up, and we said our goodbyes, knowing that we had a long drive home the following day.
On Monday, we departed at 7:30, and as we approached Temecula, we caught some heavy rain. Fortunately, the traffic wasn't too bad, and we made it through without incident.
Finally, we got home at 4:30PM, picked up Garrett from the sitter, and the pack is complete again.