As a follow on from my post on visiting Napa to buy some of the yummy V Sattui Madeira for my dad's birthday party this weekend, we are now in San Diego.
Friday – Travel Day
As airfares were ridiculously expensive, even a month in advance, we decided to drive. Save the airfare, and the cost of a rental car. Big win.
Of course, that meant driving the 9 hours (with pit stops) from San Jose to San Diego. Mostly smooth, we were against the commute on the way out of Silicon Valley, and the trip down I5 was boring.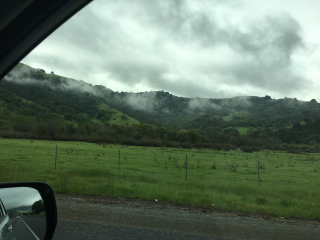 We started out driving over Pacheco Pass (Highway 152) to get from Gilroy to I5. This early in the year, it is still remarkably green, and luscious out there, so you can really enjoy the scenery, as I could since I was a passenger for the first leg of the trip.
Barb almost always takes the fist shift so she can control where we stop to visit the loo, thus I was able to take the pictures.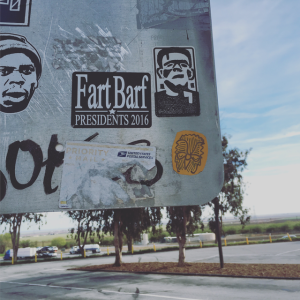 First stop was the rest stop on I5, where we switched roles. A good place to stretch the legs, drain the bladder, and to get situated. Here we switched from my driving mix of music to an audio book narration of a Lew Archer novel, "The Moving Target", the first in the Archer series by Ross MacDonald. A gripping tale of suspense and intrigue set in the postwar stage of Southern California. That was good for about 6 hours, and got us almost until we arrived in San Diego.
At the rest stop, as I was climbing into the driver's seat, I spied a cool decal, that really made me chuckle. Fart Barf * Presidents 2016. Cool statement, and not far from reality.
As I was driving the boring part, no more pictures.
We stopped in Buttonwillow, the turn for Bakersfield to refuel, and to grab some beverages, that was about the 200 mile point. A good stretch of the legs, but a little early for lunch. So onward to the Grapevine.
Lunch was in Lebec, near the top of the Tejon pass. Junk food, quick(ish) and filling, not much to report here, and then we headed into the valley.
Ah, the valley. Where there is real traffic at all hours, drivers do some of the most insane maneuvers unexpectedly, and speed limits are merely suggestions. Having done this drive many (too many) times in the past, I always take the 210 around the valley, through Pasadena, Azusa, Glendora, Rancho Cucamonga (I just love typing that), and San Dimas (Bill & Ted anyone?) to skirt the insanity that is I5.
Of course, even hitting the valley before the true beginning of the afternoon commute, you will hit some heavy traffic. This was no exception. Of course, we missed the worst of it, especially that weird "exit from 210 to stay on 210" insanity right south of the Rose Bowl.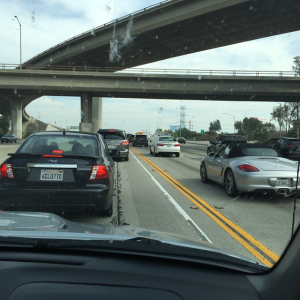 Since our destination was San Diego, we stayed on 210 to I15 south, and hit a couple of slow spots, but in general it wasn't too bad. Since we needed a break, in Irwindale we stopped at a Target to process some caffeine, and to get some chocolate goodness to recharge. I got to relinquish the wheel, and we headed back out.
Being that we were two up, we were eligible for the HOV lane. Alas, that wasn't too much help, as it didn't move too quick. The interesting thing about Los Angeles carpool lanes is that they are not time bound (i.e. they are restricted 24 hours a day), and there are defined areas where you can enter and exit them. That takes a lot of stress out of utilizing them.
Of course, they don't really move much faster than regular lanes. Sigh.
The rest of the trip was pretty dull, and pain free.