I have gotten out of the habit of updating things here lately. Work has become super busy. Homelife has been busy, and frankly the blogging has suffered.
A bunch of things today.
1) Apparently my car is dripping oil. If it was s late 1960's British car, this wouldn't be an issue, as they leak oil until they are bone dry. However, being a Honda S2000, it is disturbing. I had it serviced a couple weeks ago, so it is back to the jugheads at the dealer to figure out what they fucked up.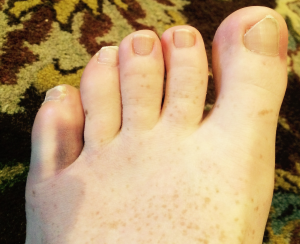 2) Having a broken toe sucks. I was just getting back into the biking groove, and then BAM, I break a toe. It hurst like hell, it is purple and swollen, and it will take a few weeks to heal. Whenever I hear about how one of the tip tier MotoGP riders flogging their bikes with a broken finger, rib or ankle. I think back to this pain, and am amazed by their intestinal fortitude.
3) WordPress is really beginning to bug the shit out of me. Yep, it works, and it is #1, but damn, I spend more time messing with it, updating shit, and the like than actually writing. On the lookout for something different.  Not immediate, but it is coming.
4) While I am on the topic of blogging, I am surprised that far and away, the top draw of searches to my blog is people looking for information on the Specialized Crave Expert 2015 I own and write about (and that reminds me, 9 months of ownership, and I have some new things to write about).
5) Still grooving on the XBox One, and Forza Motorsports Racing 5. I wonder if they will continue the tie in to Top Gear now that the lustre has faded on Jeremy Clarkson. Still it is great fun, and I am now on the Grand Touring circuit, with the Lexus LFA, a ridiculouly difficult car to drive (I 'bought' an Audi R8 to trade off with, as the AWD is easier to control).
6) I think the end is near for my ancient iPad 2. I bought it in 2011, and it is struggling with the latest iOS. Sadly, you can't "not" upgrade the iOS as applications like the NY Times (probably the most used app I have) crash constantly unless you are up to date. However 4 years is an awesome run. I suspect an iPad Mini 3 will be in the cards.
7) 15″ laptops suck. Yep, I was a bit of a snob, insisting on a big fast, tons of memory and disk MacBook Pro. But almost 2 years ago I on a whim bought an Mac Book Air, and I love it. 12 – 14 hours of battery life, super light, and a good performer. I still have my vintage MacBook Pro, and it is almost painful to use.
Well, that's enough for now.