Product Review: Canon G12 camera
I have long been a photographer. I began back in high school with my grandfather's old Canon from the '60's.  I shot a lot of B&W film in high school (it was super cheap, and we learned how to process it ourselves, so it was a no brainer.
I have stayed true to Canon over the years, with several film cameras, and not I am fully in the digital realm.
Last year, on a whim, I bought a Canon Powershot G12. My wife had one of the compact cameras that she loved, but I wanted a little more versatility. I talked to a couple friends who have the predecessor of the G12 (not surprisingly the G10 and G11) and they spoke highly of the platform. So I took the plunge (I used my AmEx points to buy it.)
I wasn't sure of what I expected, but it is a viewfinder camera with the option of looking at the LCD screen to compose pictures as well.  It has a reasonably fast lens (F2.8) and a pretty large optical zoom range. It is snappy and easy to use, and it actually takes gorgeous pictures.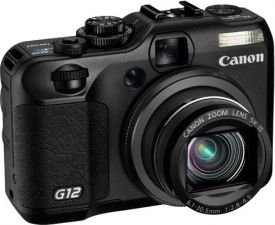 One huge benefit with this camera is that it has one of the HS sensors that greatly improve its performance in low light, so you can get clear, blur free pictures without a flash. I can attest that this really works, and that it does lead to some gorgeous pictures.
Since I often use this camera to grab quick pictures at work of small parts, and our tools for the documentation and manual, it is good to note that it can do a pretty reasonable job of focusing in the macro realm.
Other things to note: You get a fair amount of flexibility with the system.  A series of auto programs for portraits, landscapes or action pre-set conditions to make the shot easy to get, but you also have the ability to go to aperture, or time over ride and get your creative on. In these creative modes, you also have the option of saving the pictures as RAW files, that facilitates post processing quite well. The battery is pretty beefy, and I find that I don't have to charge it too often. I haven't felt the urge to buy a second battery to swap with. There are some optional mounts that let you add filters to the camera. Not as flexible as a DSLR, but it does give you some options. (note, I haven't bought these yet)
While it isn't going to replace my 5D and the L series lenses, it is a convenient knock around camera that nicely fills the void between the point and shoot variety, and the full on prosumer DSLR. I can highly recommend this for your everyday camera.