Blast from the Past: Kawasaki Bighorn 350
On my way home every day, at a trailer park there is facing the road a motorcycle trailer with something that is from the deep past. A Kawasaki Bighorn 350cc "enduro" bike. A friend in high school rode one, and we gave him a ton of shit for it.
Starting in the early 1970's Japanese off road motorcycles started redefining the dirt bike experience in the US. Prior to that, you had a lot of heavy, ill tempered, and unreliable European bikes. Jawa's, Greeves, CZ's, Maico's, and Bultaco's were the bee's knees. But they were heavy, mostly poorly handling monstrosities.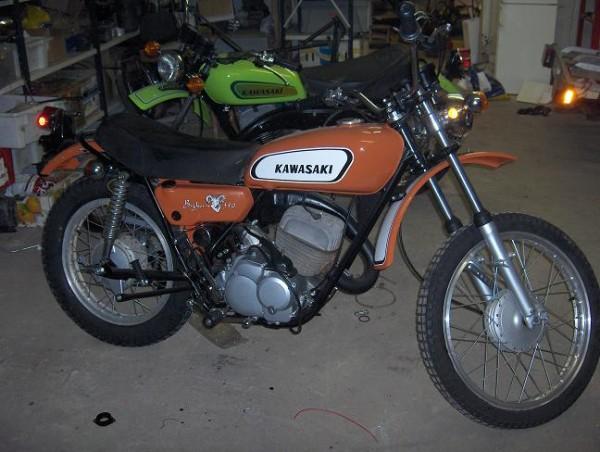 Then came the Japanese. Starting with Suzuki, but soon Honda, Yamaha, and Kawasaki all had credible offerings. Motocross was never the same after.
Then the Japanese tried to increase the market by building a series of "dual purpose" or on/off road bikes. These were really bad, by and large. The Yamaha DT400, the Honda XL350, and the Kawasaki Bighorn 350 were all touted as "commute all week, race on the weekend", but the reality was that they were lousy on road bikes, and truly abysmal off road. The street legal "trials tires" coupled with too soft suspension, and motors that buzzed like a banshee made them skittish at highway speeds. Off road?  Well, I hope you had good health insurance.
I got a chance to ride the Kawasaki Bighorn. It was modified (it had better shocks and stiffer fork springs), and had real knobbies, but it was still an evil handling, handful of a motorcycle. Fortunately I lived through that experience.
I think about stopping and asking if they want to sell the bike, but then my brain starts working again, and I realize if I am going to restore a classic, it isn't going to be a "Pighorn"