A lazy Sunday – Watching classic "The Avengers" episodes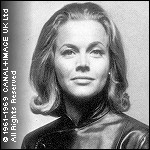 Pre-Diana Riggs, the actress opposite of Patrick McNee (Steed) was Honor Blackman. This was very rough TV, but it has its charms.  I am working my way through the 1963 season, and making a kick ass green chili.
Perhaps I will break out the DVD's with Emma Peel who made black leather unbelievably sexy in the 1960′ next.
I have a lot of work to do, and I am dutifully avoiding it.