Two Months, and 2,400 miles on the 2020 Acura RDX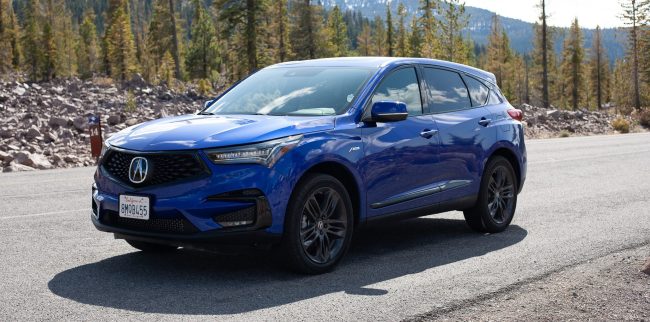 Rapidly approaching 2 months with the RDX, and it is time for an update. Naturally, the 2 months, nearly 2,400 miles, and plenty of smiles are to be expected with a new car. If you read the forums, this car is the devil, and the infotainment system is a disaster (n.b. – I rented a shitbox Ford focus one with their Sync "system" and truly that was a homeless abortion).
The miles have been trouble-free. About 1,100 of the miles were for a long trip. We spent a week in the netherworld reaches of northern California, spending time in the Shasta-Trinity area with family, then taking the scenic route back home over a couple of days, with side trips through Mount Lassen, and a last night stay in Truckee.
With the exception of getting a speeding citation just south of Lassen on CA 89 (I drove a sports car for almost 12 years without a blemish on my record, and in less than a month I get a ticket in the new SUV, oh the irony…) the miles have been – uneventful – perhaps even boring.
The Good
The car runs like a top. I am impressed with how much go is in a little 2l turbocharged powerplant. Coupled with the 10 speed transmission, and the all wheel drive, the RDX is a nimble, and capable driver's car. Not quite the experience of the car it replaced, the Honda S2000, but quite acceptable.
For it's size it has plenty of interior room. With the read seats folded down, there is enough room to shuttle two bicycles to the shop for a tuneup. On our excursion to Shasta and points north, it handled our week's worth of goodies and luggage with room to spare.
It rides and drives smooth. Enough engine rumble (supposedly enhanced to juice the driving experience) to let you know you are driving, but still a quiet interior. Perhaps not Lexus quiet, but a good balance, especially coming from the notoriously throaty engine sounds you couldn't avoid in my old S2000.
The technology works well. Looking at the forums, there is a lot of bellyaching over the infotainment system, but Apple CarPlay works well (and even better with the iOS 13 update), SiriusXM satellite radio is great, and even the built in navigation is decent (but more on this in "The Bad")
The Aspec trim, with the Apex Blue Pearl is a head turner. Many complements on the color.
The Bad
Not much here, but a few items of note.
Fuel Efficiency – Long highway drones and I can get it to 24-26 MPG, using premium (apparently you can use regular, but that yields about a 10% reduction in fuel economy, boo). Around town, and 21 MPG is more like it. It is bigger and heavier than the S2000 was, but I hoped I would get slightly better mileage than the ol' Stewie, but alas it is almost identical. Sigh.
No Spare Tire – The AWD Aspec trim package has no spare tire. It has a pump with sealant, and roadside assistance. I think I can order a spare tire add on, but I am torn. It seems that the trend these days is no spare. Regardless, it makes me nervous.
Too quiet and smooth – In the almost 12 years I owned the S2000, a true sports car, I never once got tagged for a sitation. Sure I drove like an idiot at times (the car begs to be stomped on), but not once did I attract enough attention from Johnny Law to get a ticket. Alas, I can say that my 24 year of ticket free driving is broken. On a lonely stretch of CA89, with a 55mph speed limit (literally bracketed by 65MPH limits) I drew the attention of an CHP officer. 71 in a 55. He wrote me for 65 in a 55, so I am thankful. It is way too easy to go FAST in this vehicle. The low interior sounds, and the competent drivetrain and handling are dangerous to your record.
Navigation System – One of the benefits of a built in navigation system is that the maps are already in the system. A downside of using your smartphone is that without a data connection, you often lose your map data. Alas, it seems that modern built in navigation systems also rely on the built in cellular connection to augment the local store. So, if you are at the south end of Lassen Park, and you need to figure out where your hotel is, it might not be cached locally, and without a data connection, you are as blind as your cell phone is. Sigh.
The verdict
While I do miss the Stewie, it was time for a change. Being unable to fold my body comfortably into a sports car was the beginning of the end for me. But no fear, the Acura RDX is a worthy successor. Sporty enough, easy to drive, with the modern goodies that are expected, it is a joy to drive, and so far super reliable.
While 2400 miles in just two months is well above my usual driving habits, I can see myself getting to more usage than my Stewie was the last few years.