Mexican Vacation – Drive down the Coast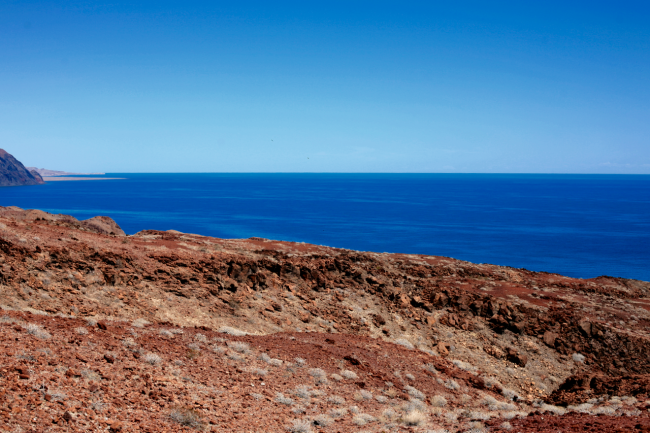 Recap: We finally arrived in San Felipe late on Tuesday. After a long and exhausting day, Wednesday was a "chill" day, with a simple drive around the El Dorado Ranch development, and a quick, light lunch by the Cabana. Then we swung by the championship golf course, and met one of the Crawford's friends, El Vira.
A lazy afternoon (some windows were being delivered and installed for the enclosed patio), and a delightful dinner of gulf shrimp and brisket for impromptu surf 'n turf.
Thursday, we were far more adventurous. The goal was to see the sights, to take in lunch at a little fishing enclave, Papa Fernandez.
Our first stop was at a vista point that had a glorious view of the Sea of Cortez. There was also a nifty shrine, and a lot of lava rocks to crawl over.
From there, we headed south, and when we got to Papa Fernandez, we decided to go further, to look for some of the interesting local cactus that are unique to the region. Early in the season, it was still too cool for any significant reptile activity, so no chance to see some of the more interesting wildlife.
We went probably 30 miles beyond, well further than the end of the new paving, and part of the very rough dirt road. We did get to see some interesting foliage.
On the way back, we did indeed stop at Papa Fernandez for lunch, a little late, but they cooked up some great Mexican food (just don't ask Barbara about the bathroom…)
On the way back, we stopped at The Valley of the Giants. It was an interesting detour, were we got to see some absolutely enormous relatives of Saguaro cactuses. $10 well spent.
About 5:30PM we were back home, relaxing and enjoying Lilly the new puppy.