Since we moved back from Arizona last year, we are a lot closer to our families, and we need to take advantage of that. Of course Barbara has been much more proactive than myself, but that is no excuse.
Last year we visited my sister, Tracey and her wife in their home in Mountain Ranch, California. A lovely place nestled in the hills of Calaveras county, and a modest 2.5 hour drive away (depending on traffic, naturally), and loved it. The boys did as well.
Of course, living in the country, they have a veritable menagerie of animals.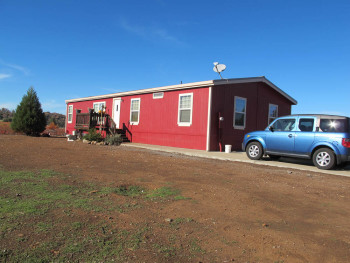 First, they live in a nice manufactured home, comfortable, and remarkably spacious inside, it is definitely "home", and the fresh coat of red paint, just screams "BARN", and I love it. It is perched on the top of a slight rise, and their neighbor on one side grows grapes (presumably to make wine).
Of course, having (I am guessing) 5 acres, means you can have some animals that the "townies" aren't used to, like Donkeys, Chickens, Ducks, Pigs, and Goats.
And then they have 4 dogs, two aussie cattle dogs, a black lab named Jane, and Woody, the basset hound mix.