Meals in the new Kitchen – Arroz con Pollo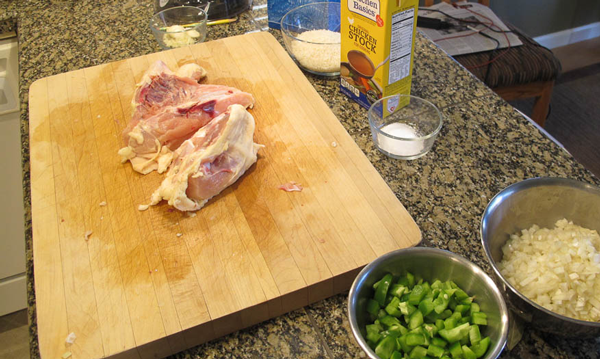 A series of posts about the meals I cook in our new house. I have posted on some of my culinary exploits in the past, but these will be special.
For the first time ever, I have new appliances (mainly a quality range) to cook with, and that brings me no small measure of joy.
The first meal was Arroz con Pollo, a hearty Mexican classic, single pot meal.
You really need a good heavy dutch oven for this. I have a Le Cruset "second" that I bought at an outlet store probably 25 years ago.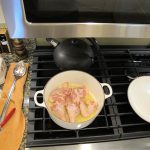 Arroz con pollo is traditionally made with a cut up whole chicken. You brown it in oil (I use olive oil), remove the chicken to a plate, then cook some veggies in the oil. Onions and bell peppers are essential, but you can get creative.
After you have sautéed the onions and firm veggies, you add a cup of rice, uncooked, 1.5 cups of chicken broth (the chicken pieces, and cover and cook in a 350F oven for about 90 minutes. The rice will be cooked, and the liquid from the chicken will run clear. Then you add some drained stewed tomatoes, some peas, and any other quick cook veggies. Again, you can get creative.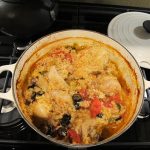 Back in the oven for 15 more minutes, and Voilá, a delicious meal that is easy to make, and to clean up after.
Buon Appetité!