Apartment Life – tagging
As we prepare to end our time in the apartments, I was looking for an icon of the life here. I have complained about the safety, the cleanliness, and even the character of the neighborhood. However …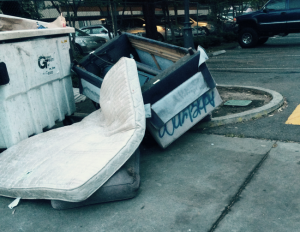 One picture wraps it up well. Here we have a piece of furniture that was dumped near the trash station over the weekend, a sign of a vacate and bail on the lease event. On Monday morning, as I was headed work, I noticed that in the 8 or so hours that this piece of furniture (a couch / sleeper it appears) was tagged by a grafitti artist.
Yep, some düsh shook a can of illicit spray paint, and fucking tagged this discarded furniture.
Typical for the neighborhood, anything standing still gets tagged by one of the street gangs.
I feel like Rutger Hauer at the end of Blade Runner, time to leave…