Over the 4th weekend, I took a couple of days off (Thursday and Monday) to drive my dogs from Tucson, where they were staying at a pet lounge, to our new home in San Jose, California.
The drive was fine, we rented a big Dodge Grand Caravan, as we wanted there to be enough room for the boys, and all the crap they need (beds, food, water, our bags, etc). Although Barbara was worried that it would not have enough room, it was surprisingly cozy in the back, with well partitioned areas for the boys.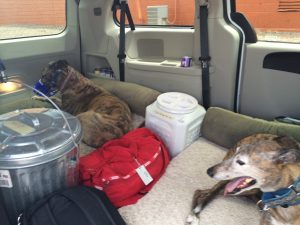 We settled in to an easy lope across Arizona. Starting later than I had hoped (surprised? Ha, you don't know Barbara very well, do ya?) we made pretty good time. A stop at the junction of Gila Bend to top up the tank (we had been driving the van around all week) and to potty the boys, grab some Subway sandwiches, and off we went.
Smooth sailing until we hit Quartzite. One of those famous Arizona monsoon pattern dumps, we ended up parking in a Chevron lot for 20 minutes until the deluge passed. I will miss that.
Barb takes over driving, and we head to California. As we were approaching Palm Springs, and it was already 6:30 PM, it seemed like a good time to find a place to stay. So I pulled up my trusty iPhone, searched for dog friendly hotels, and the top recommendation was the Best Western Date Tree Inn. Setup the navigation, and we are 20 minutes out. Cool.