In 2003, shortly after moving to Tucson, we got a pair of Oral B 3D electric toothbrushes. I was hesitant of this new fangled technology, but since we had them I used it. Then a strange thing happened …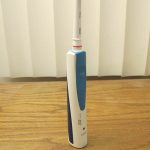 I liked it. At first it had just the standard brush heads, the round ones. As time went on, there were other heads, ones that wiggled, rotated, gyrated, and the like Some had rubber gum massagers. But the standard round heads were the best.
It had two speeds, fast and slow. But I always just used the faster speed.
It had a timer. Yes, you're supposed to brush for two minutes. Using a regular brush, and your time instincts are way optimistic. So using a toothbrush with a timer is a great thing.
Fast forward to today.
After 12 years, its battery is about dead (recharging it 2 – 3 times a week), and it is getting weak. Time to replace it.
Of course, the new dentist I selected in San Jose recommended the Phillips Sonicare. So I ordered one up.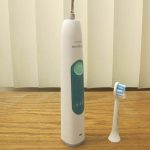 Instead of the mechanical rotating brush of the Braun, it is a piezo ultrasonic system.
Some observations:
The best way to use it is to put a small amount of toothpaste on the bristles, and to keep it almost stationary at the gum line. Not scrub or move the brush in an exaggerated manner.
It has a built in "quadrant timer" that gently alerts you to move from quadrant to quadrant. Nice touch, as you often get distracted and don't move.
Less "foaming" of the toothpaste. One of the drawbacks of the Braun unit was the rotating head, it would churn the toothpaste, and it would drip down the brush onto your hand, and make a mess of the counter. The Sonicare id much less like this. There is not a hollow core to the brush part, and thus no tendency for the spit/paste slurry to migrate.
Cleaning the brush head. As there are no moving parts, and no hollow tube to capture the spit/paste slurry. Thus cleaning the brush head is trivial, and like regular toothbrushes.
I haven't had it long enough to figure out whether the brush heads last a long time, but the recommendation is to swap them at 3 months, about the same as the Braun.
One note: Several years ago, the patent on the Oral B 3D brushes expired, and there became available generic brush heads. One would think that would be awesome, but they sucked so bad, I only bought one package of 3, and only used one of them before switching back to the branded ones. Not worth the cost savings…
It is different, but so far I like it. I wonder if it will last 12 years like the Braun.